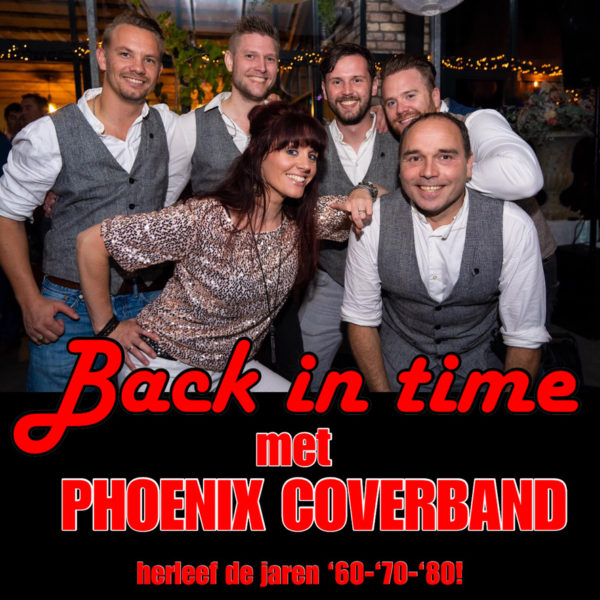 Wist je dat…je naast ons reguliere repertoire ook een complete avond "terug in de tijd" kunt beleven met Phoenix? Ben jij niet van de moderne muziek maar waan jij je graag terug naar die tijd vol "Golden Oldie Top100" hits? Dan nemen wij jou mee "Back in time"!
Met ons Back in Time concept bieden wij een complete avond live muziek met hits uit de Sixties, Seventies & Eighties!
Are you a Johnny B. Good with some "Bad case of lovin"? Will you "Let it be" and is it a "Crazy little thing called love"? Or are you "Addicted to Love" and will you Twist and shout" and let the "Jailhouse rock"? The choice is yours!
And to all you "Bad girls" out there, find yourself some "Hot stuff" guys cause you "Should be dancing….! Not from "9 to 5" but "All summer long"! Let us take you to the "summer of '69" where you will be "walking on sunshine" for "500 miles" on some "Funky Music" to a "land of 1000 dances" where there's lots of "burning love" and a some "Brown Sugar" waitin' for ya.
So "go your own way" and bring your "Proud Mary", your "whole lotta Rosie" or whoever it is you call your "somebody to love" on your night of "dancing in the dark", where we will bring you the "Power of love". "We will rock you"! 'Cause we've got lot's and lot's of music for ya! ???. 
Bekijk onze demo video of neem voor meer info contact met ons op!